Details below for anyone joining the VB Pride Parade on Saturday 27th August .
Note: only those registered with eventbrite will have Tshirts etc provided.
Dear Baker,
I hope you are as excited about walking in the Manchester Pride Parade as we are, and getting ready for the celebrations to begin.
I wanted to take this opportunity to share a few more details about the day, as these have now been shared with us from Manchester Pride.
Whats Provided:
Village Bakers will be providing some baking outfits for everyone to wear to ensure we are a co-ordinated entry into the parade.
Please remember there will be no location to store any bags, so please travel light with only what you can carry in the parade.
Each person will be asigned a role in the parade e.g. handing out stickers, carrying a banner etc.
The theme for the parade is Peace and this will be reflected in the placards that we carry in the parade, the rest of our parade entry will reflect Village Bakers.
Outfit Provided:
– Village Bakers Black Apron (available to buy after the parade)
– Village Bakers Black T Shirt (Bake Bring Share) (available to buy after the parade)
– Chefs Hat
– Mixing Bowls & Whisks (4 people)
– Pride Flags (4)
Please note if you wish go all out with your outfit that would fantastic, and welcomed, please just follow the pride rules below.
Meeting Location & Time:
– Meeting Point Location is the Castlefield Bowl, off Duke Street or Liverpool Road, Manchester, M3 4JR.
– Time: 10.30am
– Your deposit ticket wil be refunded to you on your arrival
Note: If you need to contact us before the event our mobile number is 07792991452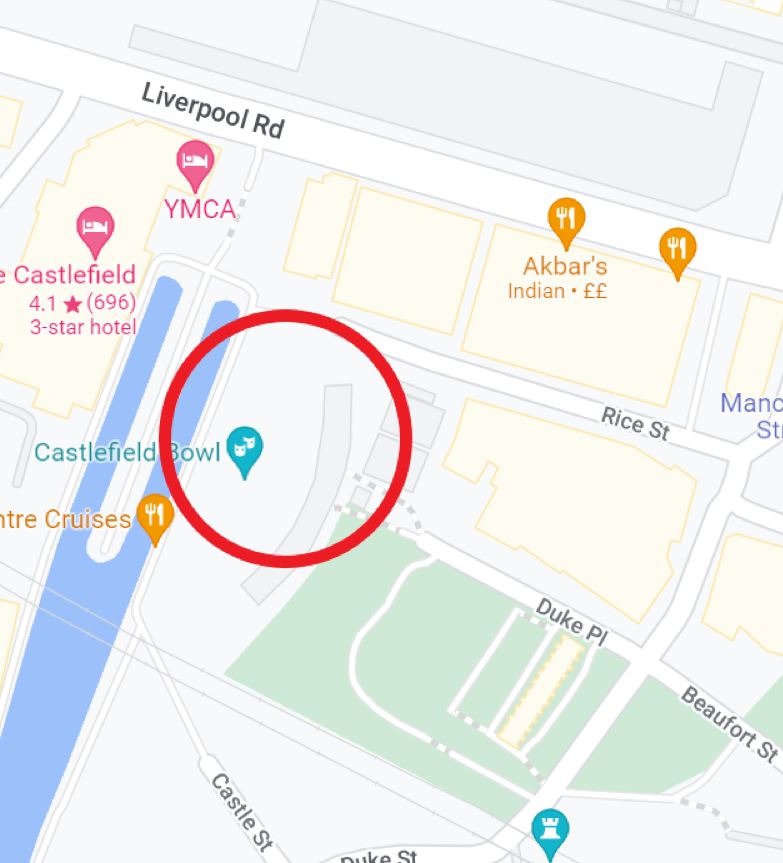 Parade Route: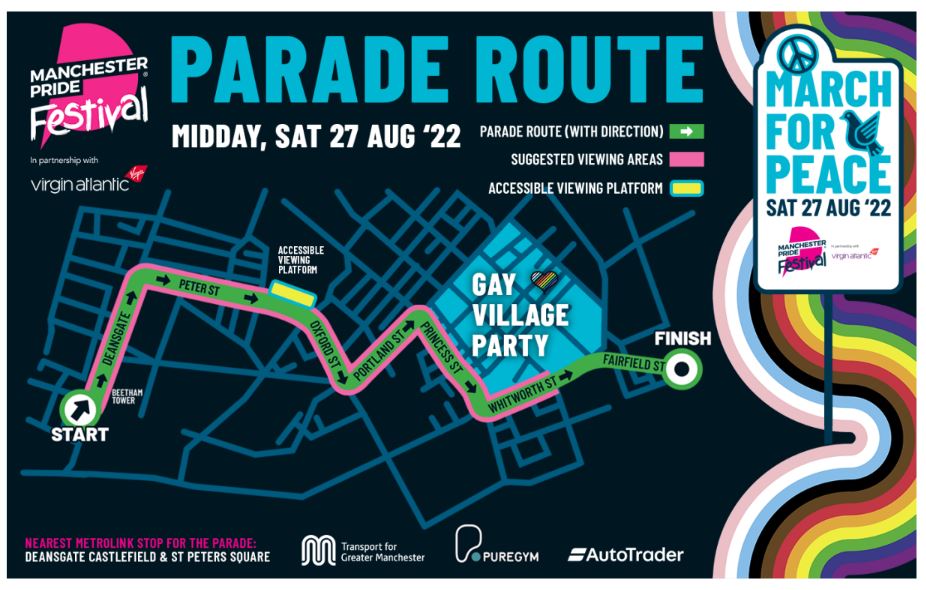 Parade Costume Regulations:
The Parade attracts tens of thousands of visitors who all come out to show support for the LGBT+ Community. Many of these visitors are families including small children. As such, we require that any
costumes are appropriate for all age groups and as the Parade takes place on the streets of Manchester which is a public area. With this in mind, there must be no lurid or obscene outfits or actions.
Any costume, float or actions that Manchester Pride deem inappropriate will result in the participant being removed from the Parade immediately.
Information for Walking Entries
Meeting Point Location is the Castlefield Bowl, off Duke Street or Liverpool Road, Manchester, M3 4JR.
The name of your group / organisation will be identifiable in the walkers holding area.
Please make yourself known to the Parade Coordinator for walking entries.
Along the Parade Route
The Parade is your time to shine! There are a lot of eyes on you – engage with the spectators but it's important to keep in mind the following:
Please be aware of the pace of the floats / walkers in front of you and keep a distance of approximately 5 metres between your group and those in front.
We anticipate it will take each entry approximately 90 minutes from leaving the start point to complete the route.
It's important that the Parade works like a well-oiled machine and you're a very important cog. Large gaps in the Parade make it look disconnected and disjointed so please try to ensure there are no big gaps between you and the group in front of or behind you.
Please remain on floats and vehicles unless instructed to disembark by one of the Stewards or Parade officials.
Please turn your music down when passing the Parade Grandstand outside The Midland Hotel on Peter Street.
Flags, props or banners must NOT be waved over the Metrolink crossover points. Flags/stilt walkers MUST NOT be over 14'7" high and be able to keep up with the parade. They will be removed if unable to.
Registration and Wristband Entry
The Responsible Person (This will be Laura) must check-in your organisation at the Registration Point. Castlefield Bowl, off Duke Street or Liverpool Road, Manchester, M3 4JR
Here, they will receive a wristband for each member of your group.
Each participant must wear an accredited Manchester Pride Parade wristband to take part in this year's Parade.
The Responsible Person will collect all the wristbands for your entry from the Registration Point. It is the Responsible Person's duty to distribute wristbands to all participants in your group.
For your safety, please ensure all members of your group wear the wristband or they may be ejected from the Parade.
The parade wristband only gives you access to particpant in the parade with your group, the tickets to access the Gay village party are sold seperately.